Temporary Park Permit Locations
The following municipal parks and facilities are available as part of the Temporary Park Use permit. In this program, Squamish businesses can request the use of municipal park space with no fees until October 31, 2020.
Junction Park (also referred to as U Siyam Park or Pavilion Park)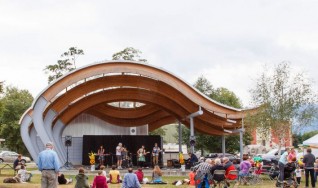 Address: 37950 Cleveland Ave, Downtown Squamish
Park Facilities: Public washrooms (4 women's stalls, 2 men's stalls) with disabled access are available in the Squamish Arts Council Building located in the centre of the park. They may be opened on request. Power outlets are located throughout the park. Power and a talent "green room" is also available at U Siyam Pavilion.
Park Booking Fee: No fee
Site Map: Download a site map of the park that you can use to build your site map for your initiative.
Stan Clarke Park
Address: 37950 Second Ave, Downtown Squamish
Park Facilities: Although there are no public washrooms located in this park, public washrooms (including disabled access) are available in Junction Park directly across Cleveland Ave. Power outlets are available throughout the park.
Park Booking Fee: No fee
Rose Park & Lily's Garden
Address: 38400 Loggers Lane (located near the Squamish Adventure Centre)
Park Facilities: There are no public washrooms or power outlets for public use located in this park. Public washrooms are available during business hours at the Squamish Adventure Centre (across Loggers Lane).
Park Booking Fee: No fee
Brennan Park Recreation Centre
Address: 1009 Centennial Way (at Loggers Lane)
Field Facilities: Facilities available at the Recreation Centre include public washrooms, showers, water and power.
Park Booking Fee: No fee