Please choose the one area of climate action that you feel that your actions most closely relate to:
Reducing landfill waste
Please describe in detail a couple of the main climate actions you are taking to reduce emissions in your own life:
When my wife and I moved into our Downtown Squamish apartment complex (where we lived previously), we both noticed that the "garbage room" was a total stink pit and was just a dumping ground for everything in the complex. Everything and I mean everything, ended up in the huge garbage bin.
A small group of owners, including Peter Lang, got together and decided to do something about this problem. We met with a number of senior staff at Carney's (now GFL) and asked them to assist in getting it organized. At this time Carney's did not have any idea of what we could achieve by way of "diversion" away from the dump.
With their assistance over the following four years, we installed a separation system that involved a separate bin collection service for paper, cardboard, containers, compost, batteries, plastic bags, and plastic wrapping, light bulbs, metal, glass jars and glass bottles, styrofoam, and most importantly: a collection service in the Refuse Management Centre for the collection of items that could be returned to the Return-It Depot for cash.

One of the key items that impacted our efforts was the ability of Carney's (GFL) to calculate the amount of diversion as it relates to the diversion away from the landfill. The total amount of actual items going to the landfill in 2019 was estimated, by GFL, to be 187 kg per capita in the entire development.
What this means is that our building achieved in 2019 the District's 2021 target of diverting 300kg per capita away from the landfill. The estimate when we started this project was that only 35% of the bulk garbage was actually being diverted. In 2019, that figure increased to 87%, including all of the various sub-sections, mentioned above.
Please describe in detail something you are doing toward broader community climate action:
I want to be part of the solution for waste management in my community and have worked with a few local organizations to help optimize their waste management.
During the building process of the Helping Hands Under One Roof, they talked with me about how they should set up their refuse management area and have a set up that is very manageable as well as drop off areas in the building for refundable containers. They did receive, at no cost, from the BC sponsored Return It group all of the containers they needed to manage their building. I have also worked with the Executive Suites Hotel in setting up their Refuse Management Centre, the same way as we did in the Downtown apartment building.

What has inspired you to take climate action?
I grew tired of all of the garbage going into the landfill when it can be managed much better.
What advice do you have for Squamish community members who are looking to get involved with climate action?
Look to yourselves and what you create as far as garbage and work towards reducing and reusing versus the landfill.
What stands in the way of total diversion in Squamish? After discussions with a number of households in my area, I realize they do not separate items that should not go to the landfill. Upon inspection of many "bins" in my area I have found the following:
a. Glass containers in the landfill bins.
b. Refundable beer cans and juice containers in the recycle bins.
c. Compost in the landfill bins.
d. Plastic bags, and recycled items in the landfill bins.
There does not seem to be any direction to the centralized groups that use the refuse management system such as multiple occupancy development as to the policies that they must follow in complying with the rules set forth by the District to individual households. I have looked at four condo, or rental, towers, and found in all cases they do not have a designation area large enough to properly manage their Refuse. In all cases they do not separate compost or other products that can be recycled. Almost all of the refuse is placed in the large landfill bins. I think there is an opportunity for residents of multi-family properties to optimize their refuse management like we did in my former building.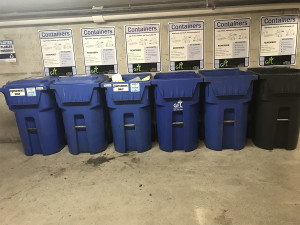 I'm concerned about the District of Squamish achieving its 300kg per household target by 2021. One suggestion I have for reaching this target would be to rank each household, and each major development, that uses a central Refuse Management system, to control and manage their waste. (See the Zero Waste Strategy dated 2017 for additional information).