Historic Community Forest governance agreement between Squamish Nation and District of Squamish is signed
Community open house planned for May 1, 2019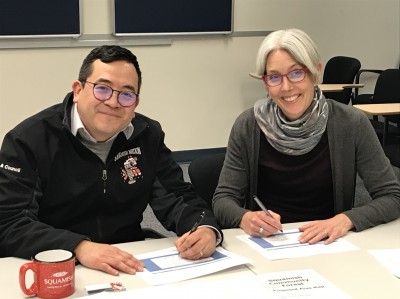 The Squamish Nation and District of Squamish have signed a historic agreement that defines a governance structure to put control of approximately 10,000 hectares of forest land squarely in the hands of the community. The governance structure agreement was signed by the Nation and District earlier this year, and an open house will be held May 1 to engage residents in the next steps. This is the first partnership agreement signed by the Nation and District where the two organizations will be co-managing a local asset.
A Squamish Community Forest offers many benefits including: long-term economic development and local employment; local level decision-making and planning over timber harvesting in key areas such as cultural and spiritual sites, watersheds, viewscapes and recreational areas; education and research opportunities including increased community awareness of forest management.
Residents and community groups are invited to learn more about the Squamish Community Forest and share ideas about proposed forest values that will guide the development of the management plan. All are invited on Wednesday, May 1 from 3 to 8 p.m. at the Sea to Sky Hotel (Tantalus Room). A second open house will be scheduled in June for those who may not be able to attend.
The Squamish Community Forest was an opportunity presented to Squamish by the B.C. Ministry of Forests and Range. The Squamish Community Forest Corporation will be responsible for overseeing the forest operations. The Board of Directors includes: Mayor Karen Elliott, Councillors Armand Hurford and Jenna Stoner representing the District of Squamish and Chief Ian Campbell, Wilson Williams and Richard Baker representing the Squamish Nation.
Quotes:
"The Squamish Nation welcomes opportunities to work together with other governments on shared priorities. We're appreciative of the relationship we have built with the District of Squamish on the management and protection of our territory. We are happy to include the public and seek input on this work we are doing together for the benefit of our shared community."
- Khelsilem, Squamish Nation Spokesperson
"Agreeing to the governance structure was a pivotal step forward in our community history as our two governments work together to manage and protect these forest lands for future generations. We are deeply committed to this partnership with the Squamish Nation to manage such a valuable shared asset, and we look forward to sharing more information and hearing from community members in the coming months. Our appreciation is also extended to the province of British Columbia who enabled this to happen."
- Mayor Karen Elliott, District of Squamish
Quick Facts:
What is a Community Forest:
A community forest is a long-term agreement to manage Crown land that may be held by a local government, community group, First Nation or community-held corporation, providing benefits to the residents to help support their local economies and provide long-term employment opportunities. Community forests support opportunities in areas such as recreation, wildlife and watershed management in conjunction with responsible timber harvest, and contribute to a more diversified forest economy. More info: Province of British Columbia website
Where is the Squamish Community Forest?
The Community Forest boundaries are in the process of being defined, and more information will be available at the Open House.
How will the Squamish Community Forest be managed?
Sqomish Forestry LP was chosen by the Board as the Community Forest Manager. In the future, a community advisory committee will be struck to ensure ongoing community input and feedback into the management of the Community Forest.
April 16, 2019