Mamquam Road Upgrades
---
Sewer, Active Transportation and Paving Upgrades
The District of Squamish is implementing capital project upgrades along Mamquam Road this summer and fall. These upgrades include a new sewer line, new sidewalk and bike paths, and road repaving, each of which are intended to make significant improvements to the area.
Work will take place in phases over the next four to five months, beginning with the sewer project in late June. The sewer project will be followed by the construction of the new sidewalk and bike path, and lastly with the road paving which is anticipated to be finished in late fall.
Timeframe: Late June to late fall
Project Area: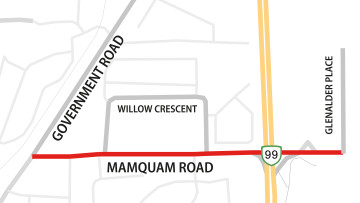 ---
Sewer Upgrades
Project Area: Willow Crescent (west) to Glenalder Place on the east side of Highway 99.
Project Scope: The scope of this work includes upgrading the sewer pipe to accommodate for future growth. The project will begin at Willow Crescent and move east as the project progresses.
(click image to enlarge)
Project Impacts:
Phase 1 to 3: (Willow Crescent to Highway 99)
Phased road closures, including full 24/7 road closures, on the west side of Highway 99 will be required due to the depth of the sewer pipe and the size of the excavation and dewatering required in order to complete this work.
Construction hours will take place between 7 a.m. and 7 p.m. Monday through Friday, however, dewatering pumps will be in operation on a 24/7 basis.
Parking Impacts:
Parking will be impacted in the construction area. All measures will be taken to maximize parking availability. Parking will be opened as the project zone progresses to the east.
Traffic Impacts:
Traffic pattern changes for construction
Pedestrian and cyclist access will be maintained throughout construction
Expect delays
Timing:
Phases 1 and 2: 4 weeks
Phase 3: 6 weeks
Phase 4: 4 weeks
---
Active Transportation Project
The District of Squamish is upgrading the pedestrian and cycling routes along Mamquam Road. between Government Road and Highway 99.
Scope of work:
Active transportation upgrades include:
Completion of a sidewalk on the north side between Willow Park and Highway 99
Protected bike lane on the north side
New on-street bike lane on the south side
Details drawings will be available shortly.
Public Engagement:
A letter was delivered to 600+ area residents with a link to an online survey to gather resident feedback on the concept design.
Street Parking
Adjustments to the crosswalk and bus stop will allow for maxiumum parking on the north side of Mamquam Road
Parking will be removed on the south side of Mamquam Road to accommodate an on-street bike lan
Efforts have been made to minimize the overall net loss of parking which, estimated to be four stalls
Crosswalks
Both crosswalks include enhanced safety measures such as narrowed crossing distances and improved alignments
The Easterly crosswalk has been moved 25 metres east to Willow Crescent
Speed
The narrowing of the crosswalk will help to reduce overall speed (?)
Formalized parking (what does this mean?) and curbs created a more urban environment which can result in lower traffic speeds
Project Timeline:
Work is expected to begin in early August and is expected to be complete in Fall 2021.
Project Impacts:
Phased, temporary parking restrictions along north shoulder.
Transit stop relocations during construction.
Pedestrian and cyclist access will be maintained throughout construction.