Proposed Garibaldi Springs Park
The Garibaldi Springs site on Tantalus Road was rezoned in October, 2018, providing for a large ecological reserve, active park uses and residential development.
Dedication of the public park lands to the District, restoration of habitat areas and construction of parks and trails are key elements of the community amenities secured in the Land Development Agreement (LDA) during the rezoning process.
Related subdivision and environmental Development Permit applications have also been submitted to the District and can be viewed on the Project Showcase.
Preliminary drawings of the proposed park were included in the rezoning package. More details on the proposed park design are now available in the Report to Council being presented February 11, 2020.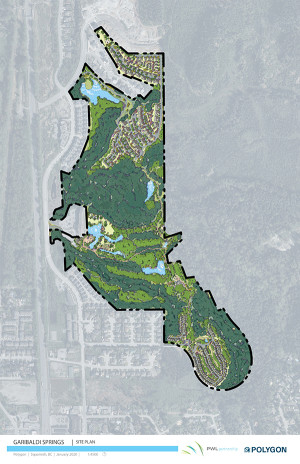 Public Information Meeting
The applicants are required to hold a Public Information Meeting on the proposed park design and layout. The applicant will present the details of the proposed design, receive input from members of the community, and respond to questions.
Thursday, February 13, 2020
6 p.m. to 8 p.m.(drop in)
Executive Suites Hotel, Clubhouse
40900 Tantalus Road, Squamish
---

How Can I Provide Comments on the Park Design?
Please submit any comments to planning@squamish.ca and they will be forwarded to staff and the applicants.